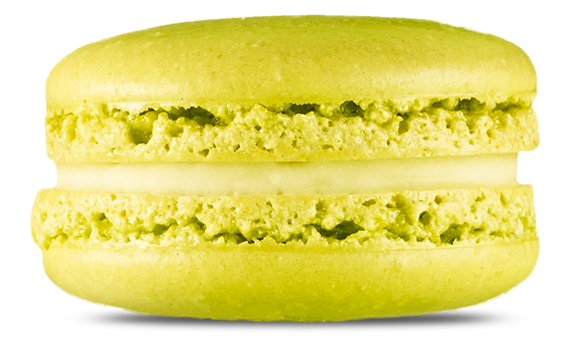 A vitamin pleasure
Awaken your senses with this vitamin sweetness! Nothing like the fragrant, tangy taste of this lime macaron to electrify your palate.
Ingredients: Shell: Sugar, Ground almond, Liquid egg white, Corn starch, Food coloring preparation (water, high fructose, corn syrup, glycerine, FD&C yellow 5, sugar, modified corn starch, carrageenan gum, sodium benzoate and potassium sorbate, xanthan gum, citric acid), Dry albumen.
Filling: White chocolate (sugar, cocoa butter, whole milk powder, soy lecithin, natural vanilla flavour), Lime juice, Starch preparation (modified corn starch, vanillin, beta carotene, riboflavin).

Contains: nuts (almond), egg, soy, milk. May contain: gluten.