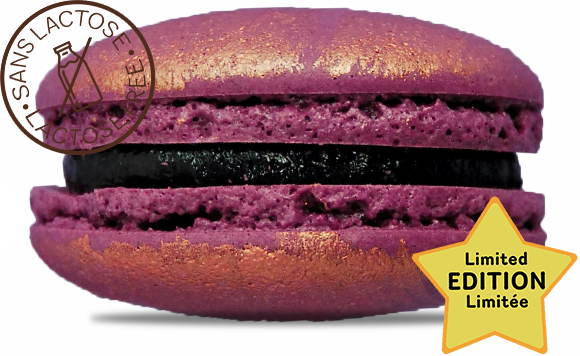 Haskap Berries
Regular price
A Berry Good Creation!
Cultivated in Quebec since the beginning of the 90s, haskap, or blue honeysuckle, has earn its rank at the grand ball of small fruits. Its purple flesh is a powerful cocktail of flavors and its tangy juice is often associated with blackcurrant, blueberry, raspberry and blackberry.. and so does this delicious macaron version.
Ingredients :
Shell: Sugar, Ground almonds, Liquid egg whites, Corn starch, Food coloring preparation (water, high fructose corn syrup, red allura, glycerin, sugar, modified food starch, erythrosine, brilliant blue FCF, xanthan gum, carrageenan gum, potassium sorbate, methyl paraben and propyl paraben), Dry albumen. Filling: Sugars (haskaps, sugar), Dried apples, Pectin, Citric acid, Xanthan gum.
Contains: Eggs, Nuts (almonds) – May contain: Milk, Wheat, Soy, Other nuts.