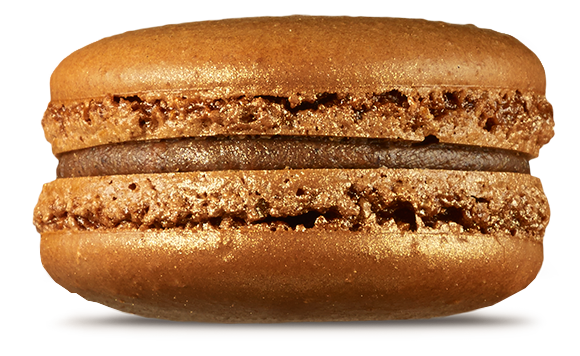 The velvety and voluptuous break
Our macaron with coffee is the promise to regain the tasty taste and aromas so rich of a master roast. For an enchanting break, as velvety as voluptuous.
Ingredients: Shell: Sugar, Ground almond, Liquid egg white, Corn starch, Cocoa powder, food coloring preparation (water, high fructose corn syrup, glycerine, FD&C red 40, FD&C yellow 6, FD&C yellow 5, modified food starch, sugar, FD&C blue 1, FD&C blue 2, FD&C red 3, carrageenan gum, sodium benzoate, potassium sorbate, xanthan gum, citric acid), Dry albumen.
Filling: 35% cream, (cream, Carrageenan), White chocolate (Sugar, Cocoa butter, Whole milk powder, Soy lecithin, Natural vanilla flavor), Milk chocolate (sugar, cocoa butter, whole milk powder, unsweetened chocolate, soy lecithin, natural vanilla flavor), Roast Pecan nut, Sugar, Vanilla paste (Sugar, Glucose, Water, Vanillin, Salt, Vanilla seed, Caramel color, Agar-agar, Pectin, Natural flavor, Vanilla extract).
Decoration: Golden powder
Contains: nuts (almond), egg, soy, milk. May contain: gluten.