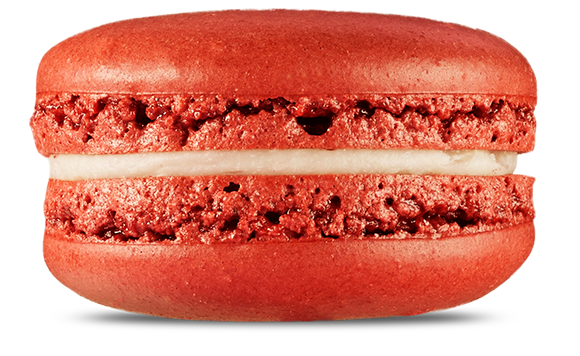 The color of passion
Discover the marriage between two North American and French pastry classics! Our Red Velvet macaron is the taste of a love story.
Ingredients: Shell: Sugar, Ground almond, Liquid egg white, Corn starch, Water, Food coloring preparation (water, high fructose corn syrup, glycerine, sugar, FD&C red 40, modified food starch, FD&C red 3, FD&C blue 1, xanthan gum, carrageenan gum, sodium benzoate and potassium sorbate, methyl paraben and propyl paraben, citric acid), Albumen powder.
Filling: White chocolate (sugar, cocoa butter, skim milk powder, soy lecithin, natural vanilla flavour), Cream cheese (milk ingredients, bacteria culture, salt, guar gum, locust bean gum), 35% cream (cream 35%, carragheenin), Sour cream (cream, milk ingredients, bacteria culture, microbial enzyme), Yoghurt powder (yoghurt powder, skim milk powder, citric acid, natural flavor).
Contains: nuts (almond), egg, soy, milk. May contain: gluten.