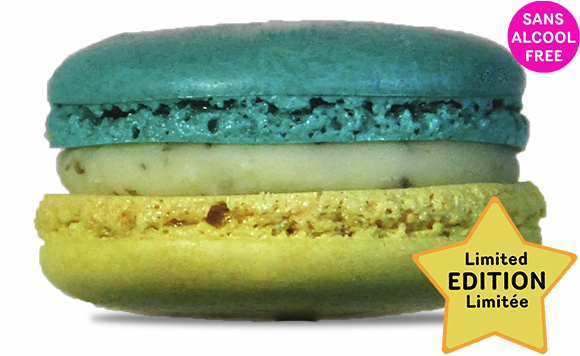 A bite of Mojito and you will be transported to the counter of the famous Cuban Ambos Mundos Hotel in the heart of La Habana Vieja.
Carefully preparred with fresh mint grown and harvested in Chambly QC, especially for the occasion, a dash of lime and white chocolate, this macaron is an invitation to travel. Hemingway would have gladly accepted.
Ingredients
Shell: Sugar, Ground almonds, Liquid egg whites, Corn starch, Water, Food coloring preparation (water, high fructose corn syrup, glycerin, sugar, tartrazine, brilliant blue FCF, modified corn starch, indigotin, red allura, sodium benzoate and potassium sorbate, carrageenan gum, xanthan gum, citric acid), Dry albumen. Filling: White chocolate (sugar, cocoa butter, whole milk powder, soy lecithin, natural vanilla flavour), Lime juice, Cocoa butter, Fresh mint, Starch preparation (modified corn starch, vanillin, beta carotene, riboflavin), Mint tea.
Contains: Eggs, Milk, Nuts (almonds), Soy – May contain: Wheat, Milk, Other nuts.